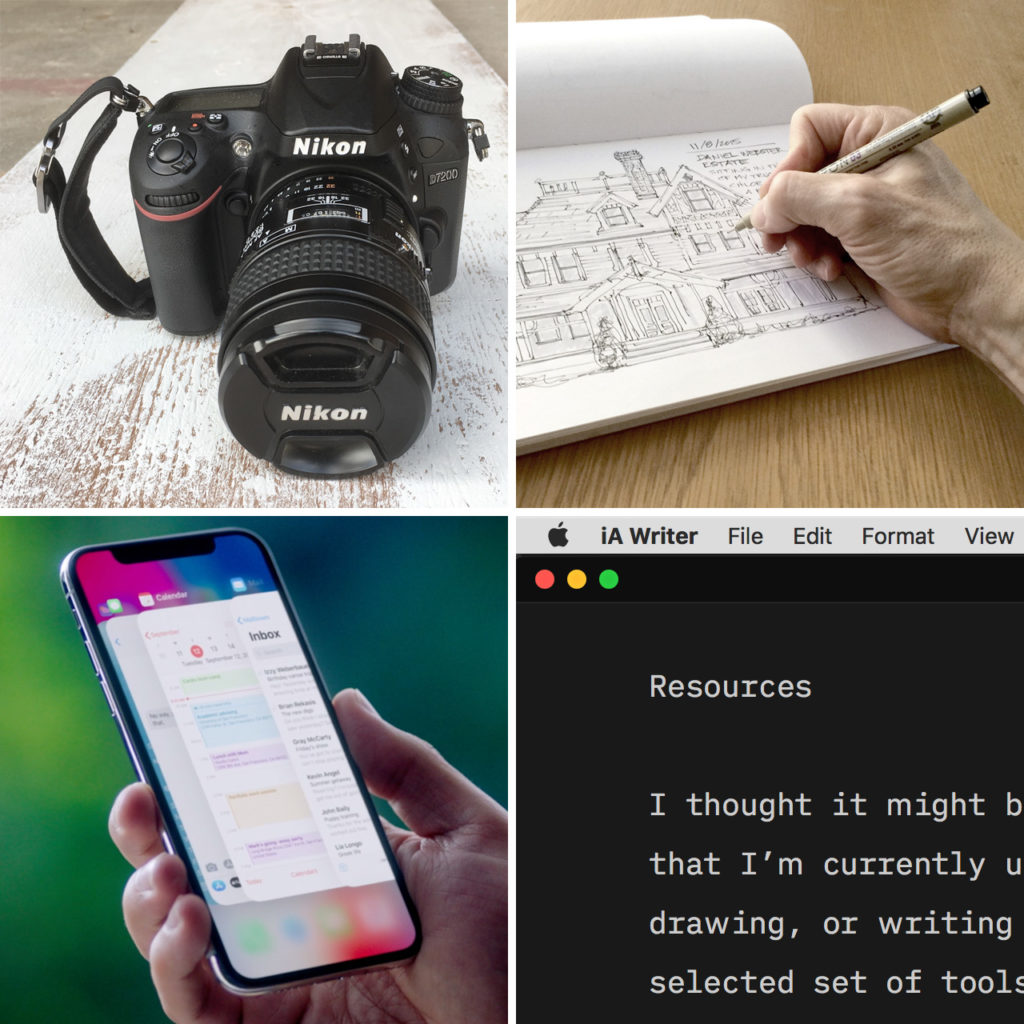 Whether I'm drawing, writing, or taking pictures, I try to rely on a carefully selected set of tools that makes the process of creating as friction-free as possible. I'm always experimenting. But these are the resources that I turn to most often.
Writing Resources
I was never much of a writer in school, and I don't consider myself a very good one now. But writing daily has certainly helped me get better at the craft. The truth is, when it comes to taking pictures, drawing, and writing, I spend the most time writing. I start my mornings and end my days with writing (usually in the form of journaling). These are the apps that help make the experience a joy.
iA Writer
iA Writer is a distraction-free writing app that I've been using for years. In my opinion, when it comes to typing words on a screen, there isn't a better writing experience available. iA Writer's blue cursor and Duospaced font set against the Dark Mode screen makes me want to write for hours. Focus Mode keeps the sentence I'm writing or editing in the middle of the screen, set apart in a subtle way from the rest of the text. It works on both Mac OS and iOS and syncs seamlessly with iCloud (it also works on Windows and Android). If you love to write on screen, I can't recommend iA Writer enough.
Day One
I've been using Day One as my go-to journaling app for about four years running. This app has been instrumental in the development of my daily journaling practice. I have over 1,500 entries to this point. My favorite feature is "On This Day." I can quickly see what was on my mind on this day over past years (assuming I wrote entries on those days). I write my journal entries in iA Writer (in Markdown) and then copy and paste them into Day One. If you're on a Mac and iOS, there's no better journaling app.
Drafts
While I don't do much writing in Drafts, I've yet to find a better application that allows me to quickly capture notes and ideas on my iPhone, Apple Watch, and Mac. As soon as the application is launched, a blinking cursor awaits. I can either type or dictate a note. It's the easiest, friction-free way to capture thoughts throughout the day.
Drawing Resources
I've gone through phases where I've drawn for hundreds of consecutive days. I've found it helpful to maintain a daily drawing streak when I'm trying to get back into the drawing groove. But I do take breaks to keep the process from becoming too mechanical. While I usually use pen and ink, I'm trying to incorporate more watercolors.
Sketchbook
I used to carry a Cachet Riata sketchbook made by Daler-Rowney. It has a soft cover that feels like suede and is filled with 112 pages of 70-pound paper, suitable for pencil and pen. But once I started using watercolors, I made the shift to a Stillman & Birn Alpha Series sketchbook. It's a 6 inch by 9 inch hardcover book that contains 62 sheets of 150-pound paper. I really love the landscape format and it handles mixed media well.
Pens
For the majority of my drawings I keep things relatively simple and just use black ink with two tones of gray. I've used a Sakura Pigma Micron Pen and the Lamy Safari Fountain Pen with an extra fine nib. But my new favorite is the BAMF fountain pen from The Desiderata Pen Company. It has a flexible nib that allows for lines of varying widths depending on the pressure applied. It's a joy to use. But because it's a fountain pen, it requires regular cleaning and maintenance. I fill the pen with Platinum Carbon black ink. After I complete the initial line work, I add depth with two gray brush pens from this set made by Tombow.
Watercolors
I'm always amazed by what a touch of color can do to a pen and ink drawing. I use watercolors as an easy way to quickly add color to my drawings. I have a small travel pallet that contains various pigments from Daniel Smith. I use a water brush and an Escoda travel brush. I have a lot to learn about technique when it comes to painting with watercolors.
Photography Resources
While I've spent many years doing portrait photography as a side-hustle, I'm making the shift to taking more picture for myself. I still have a Nikon DSLR, lenses, and lighting gear. But the truth is, I rely on my iPhone. It's the camera that's always with me (it's the camera that's always with everyone).
iPhone 13 Pro
I've had an iPhone since the original and tend to upgrade every couple of years. Each time I upgrade, I find myself using my DSLR less. I'm currently using the iPhone 13 Pro. The beautiful screen and amazing camera with three lenses make this phone an absolute joy to use. But now there's the iPhone 14 Pro…
VSCO
I recently rediscovered VSCO after having it on my iPhone for years (and paying for a subscription). I was considering cancelling it. But after launching it, I realized that it's what Instagram used to be in the beginning… before stories, reels, ads, and algorithm madness. I'm diving back into this app and I'm loving the experience. The user interface is beautiful and the filters are amazing. It's helping me fall in love with taking pictures for myself again.
These are just some of the resources that I use on a day to day basis to shoot photos, draw pictures and do any kind of creative writing. I'm hoping to add more tools that I use to create and host this website in the near future.
Subscribe to My Creative Workout