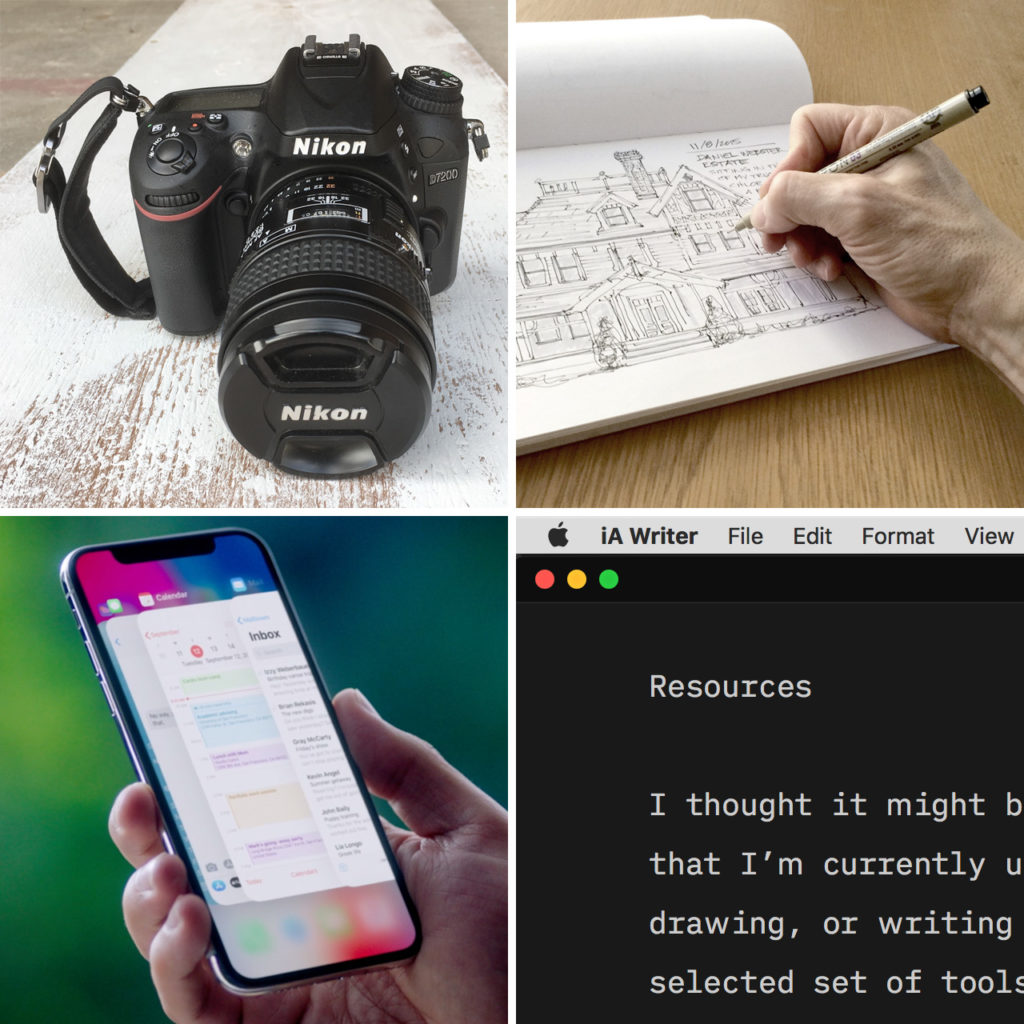 Whether I'm shooting photos, drawing, writing, or even building this website, I rely on some carefully selected resources to make it all as friction-free as possible. I'll be constantly updating this list as I discover new gear, apps, and tools that make it easier for me to be creative.
Some of the links below are affiliate links, which means that if you choose to make a purchase, I will earn a commission. This commission comes at no additional cost to you. Please understand that I have experience with all of these products and services, and I recommend them because they are helpful and useful, not because of the small commissions I make if you decide to buy something. Please do not spend any money on these products unless you feel you need them or that they will help you achieve your goals.
Photography Resources
Nikon D7200
While I'd love to make the move to a mirrorless camera, it's just not possible for me at this time. I can't let gear acquisition syndrome get in the way of creating images. That means doing the best I can with what I have available, and that's my trusty old Nikon D7200. I've shot with Nikon DSLR's for many years now and while the D7200 has been around for awhile, it still has all the features and functionality I need to shoot portraits or anything else I might be inspired to shoot.
Clutch Hand Strap from Peak Design
When I purchased the Nikon D7200 I decided to go with with a dedicated hand strap instead of the standard Nikon neck strap. After doing a bit of research, I purchased the Clutch camera hand strap from Peak Design. It fits my hand perfectly and it's super easy to loosen and tighten. It allows me to get at all my camera's controls while providing a high level of security.
Nikon AF Micro-Nikkor 60mm f/2.8D
Using a macro lens while shooting at a shallow depth of field at a close distance can produce some really amazing images. For this type of creative close-up shot, I use a Nikon 60mm 2.8 macro lens. I've owned this lens for many years and just love the cool effects I can get whether I'm shooting obscure objects, flowers or various patterns that I stumble upon when I'm out and about.
Nikon AF 70-200mm f/2.8 ED VR
I just love the results I get from this lens when shooting people either in natural light or with the use of off-camera flash. The combination of tack sharp details and beautiful "bokeh" (blurred background) when shooting at a shallow depth of field produces amazing portraits and headshots. Virtually all of the portraits on my photography website were shot with this lens.
iPhone 11 Pro
I've had an iPhone since the original and tend to upgrade every two years. Each time I do upgrade, I find myself using my iPhone in more and more situations where I would only previously use my DSLR. I'm currently using the iPhone 11 Pro and absolutely love it. The beautiful OLED screen and amazing camera with three lenses make this phone an absolute joy to use.
Everyday Backpack from Peak Design
Whether I'm carrying what I need for my day job, or camera gear to a photo shoot, the Everyday Backpack from Peak Design does it all. It's so well designed, looks great, and is ridiculously adaptable to almost any situation. I went with the 20L black version but I think the charcoal version is super sharp as well. I've had this backpack for over two years now and it still looks brand new. Peak Design is an amazing company that produces beautifully designed products.
Drawing Resources
Sketchbook
I used to carry a Cachet Riata sketchbook made by Daler-Rowney. It has a soft cover that feels like suede and is filled with 112 pages of 70-pound paper, suitable for pencil and pen. But once I started using watercolors, I made the shift to a Stillman & Birn Alpha Series sketchbook. It's a 6 inch by 9 inch hardcover book that contains 62 sheets of 150-pound paper. I really love the landscape format and it handles mixed media well.
Pens
For the majority of my drawings I keep things relatively simple and just use black ink with two tones of gray. While I used a Sakura Pigma Micron Pen for many years, my new go-to is the Lamy Safari Fountain Pen with an extra fine nib. After I complete the initial line work, I add depth with two gray brush pens from this set made by Tombow. Occasionally I'll add some varying line widths with two black Tombow Fudenosuke Brush Pens (both soft and hard).
Writing Resources
iA Writer
iA Writer is a distraction-free writing app that I was turned on to while listening to Shahid Kamal Ahmad on an episode of the Mac Power Users podcast. At the time I was quite happy with Byword for most writing tasks. But after hearing Shahid describe how beautiful iA Writer's Duospaced font looked in Night Mode, I had to give it a try. Soon after, I was hooked. The writing experience is wonderful. It works beautifully on both Mac OS and iOS and syncs seamlessly with iCloud. I absolutely love this app. It has become one of my top creative resources. It just makes me want to write for hours on end every time I launch it. If you love to write, I can't recommend iA Writer enough.
Apple Notes
To quickly jot down snippets of text, ideas for blog posts, interesting quotes, etc., I use Apple Notes. This app runs and syncs flawlessly on on my Mac and iPhone. Wherever I am I can quickly create a new note or add text to an existing note. No matter which device I happen to be on, all my notes stay up to date.
Grammarly
Grammar was never my strong suit in school. However, after using Grammarly regularly, I'm finding that my writing has consistently improved. While I still rely on the free version, I'm contemplating giving the premium version a try to correct the "advanced errors" that it often finds.
Spotify
I love to listen to movie scores and other forms of music without lyrics to help me focus when I write. The playlists on Spotify that I turn to most often are Lo-Fi Beats, Reading Chill Out, music from the game Uncharted, and the scores to both Equalizer movies.
These are just some of the resources that I use on a day to day basis to shoot photos, draw pictures and do any kind of creative writing. I'm hoping to add more tools that I use to create and host this website in the near future.
Subscribe to My Creative Workout