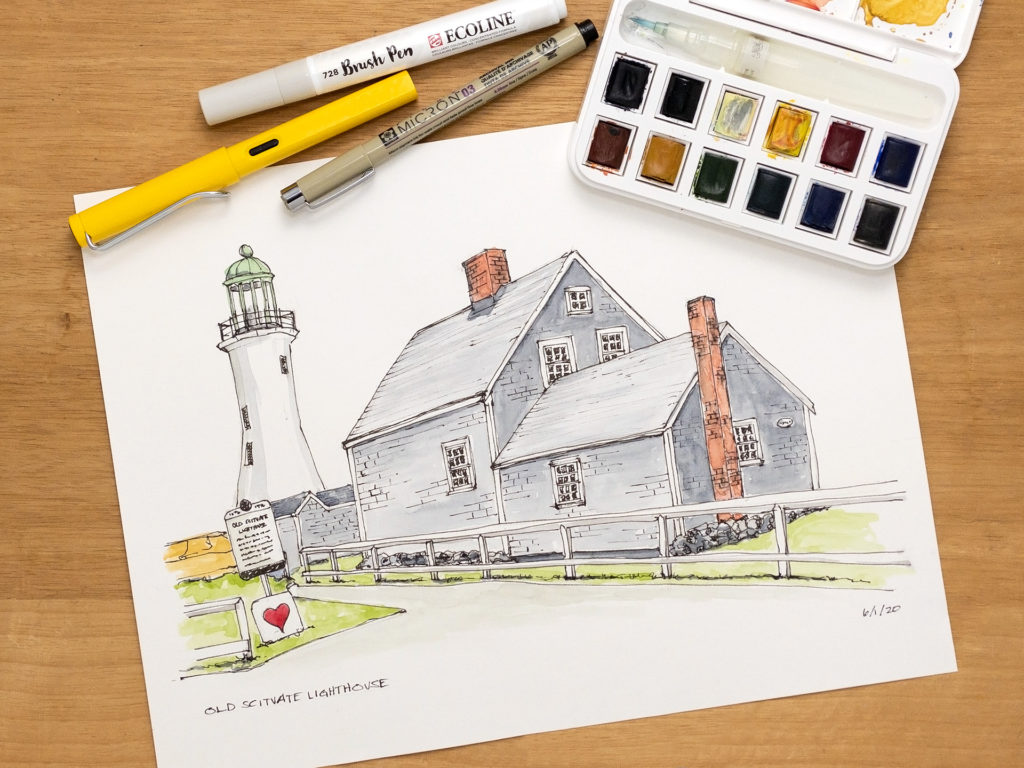 Getting paid to draw is something that never really entered my mind before. Even while on my streak of 100 straight days of drawing, I never really considered turning drawing into a side hustle. I realize that there are thousands and thousands of artists out there selling their work and many making a significant living at it. However, I've always struggled to call myself an artist, likely due to a severe case of impostor syndrome. This is probably the primary reason that I never really considered selling my artwork as a realistic option. That limiting mindset is slowly being shifted.
Drawing Local Landmarks
I like to draw local landmarks. From time to time I sketch these places in person. But more often than not I take a quick picture and use that as a reference. Lately, I've been choosing to add watercolor to many of these drawings.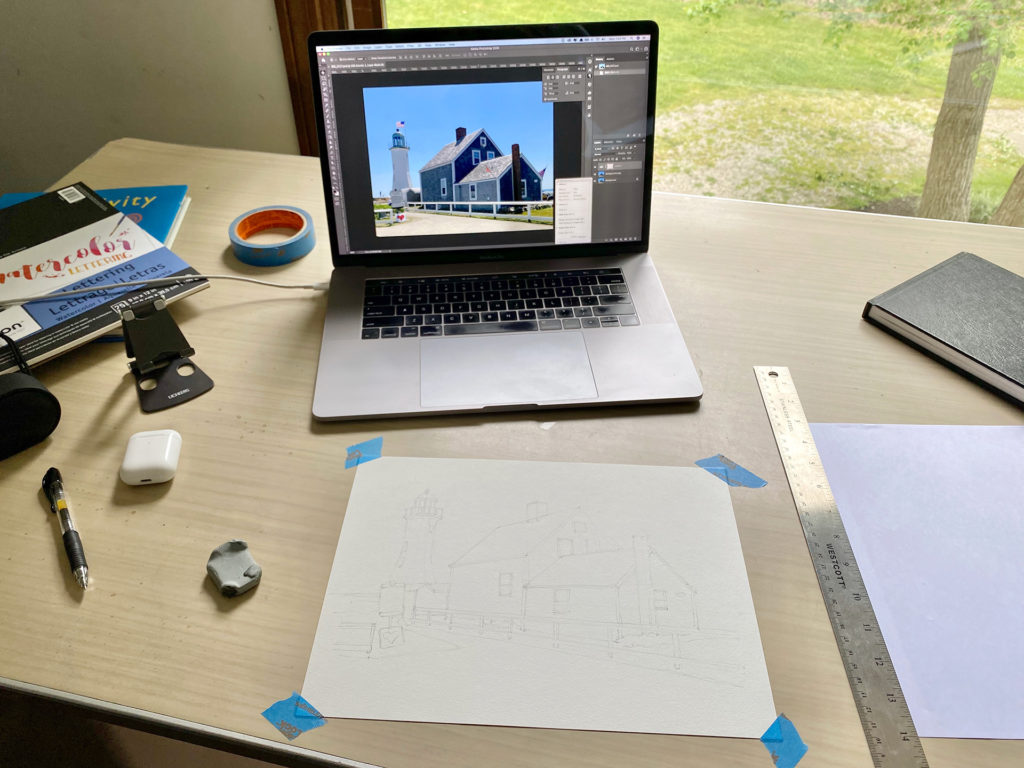 I did a recent sketch of the Old Scituate Lighthouse from a photo I took while out on a bike ride with my wife and daughter. My wife shared a picture of my sketch on Facebook and minutes after posting it, someone offered to buy it. I didn't want to sell the drawing out of my sketchbook. So instead, I offered to create a larger one that would be more suitable for framing (see picture at top of this post).
As my wife started sharing more and more of my work on Facebook, I started getting requests to draw pictures of homes. Not long ago I came across Alán Ramiro Manning's work on Instagram. As I was admiring his work I noticed that some were drawings of homes that were commissioned by realtors. These drawings were purchased as closing gifts for the new homeowners. Turning drawing into a side hustle could actually become a reality.
Drawing Shouldn't Become a Job
I love to draw. But in order for me to do my best work, I need to be in the right headspace. The last thing I want to do is to turn drawing into something I no longer enjoy because I'm getting paid for it. I don't want it to become something that I have to force myself to do. That's why I'm choosing to step into this endeavor lightly by not taking on too many requests too soon. I want to always be able to enjoy just drawing for the sake of drawing.
Improving My Craft
I'm so grateful for the opportunity to earn some income while continuing to improve my skills and refine my technique. I'm still in the early stages of establishing a style that I like. And I'm a complete novice when it comes to working with watercolors. I've been admiring the work of artists like @captain_tom, @ianfennelly, and @housesketcher. While I still fall into the trap of comparing my work to others (impostor syndrome), I'm careful not to let inspiration turn into frustration. For now, I'll continue to draw as often as possible and I'll see where this new path might lead me.