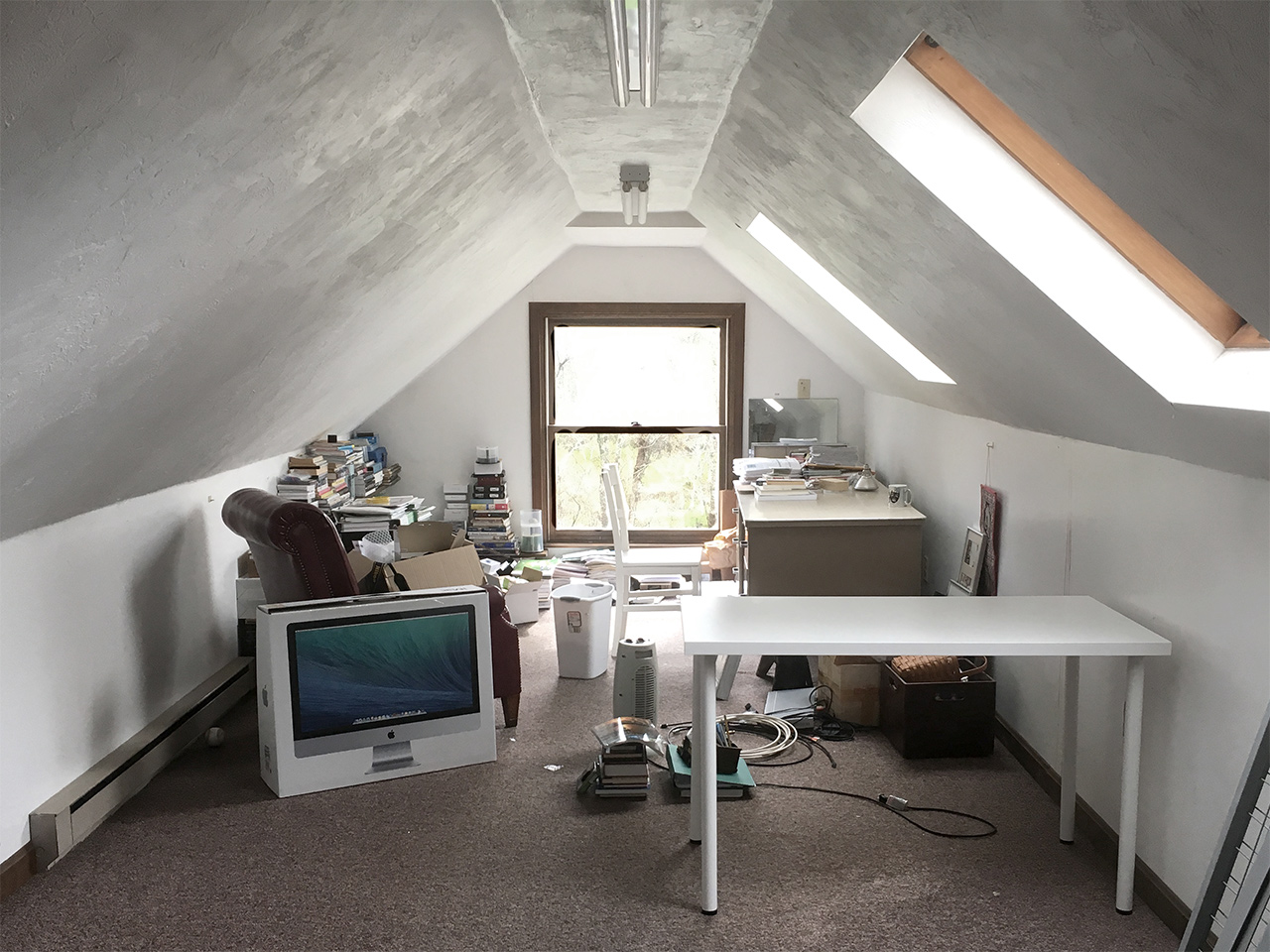 As an introvert, I've come to terms with the fact that it's important for me to spend time alone with my thoughts regularly for my own sense of balance and peace of mind. It's in these moments of solitude that I'm best able to focus on doing any kind of creative work. Finding space in our house for this purpose has always been a challenge.
We're a family of four that lives in a ranch style home with three bedrooms. I have a desk set up in our living room that I use to deal with tasks like paying bills or catching up with email. Unfortunately, there's just too much activity that happens in this part of the house throughout the day for me to use this space on a regular basis. Sometimes, when it's too busy to sit at my desk in the living room, I'll hole up in our bedroom. But because our bedroom is so close to the kitchen, it still becomes difficult to not get distracted.
I finally decided that it's time to make a space in our house that I can call my own. A personal sanctuary, a fortress of solitude, a place where I can get away from distractions, a place I can go to more easily get my creative train back on the tracks again when I need to.
To have a sacred place is an absolute necessity for anybody today. You must have a room or a certain hour of the day or so, where you do not know who your friends are, you don't know what you owe anybody or what they owe you. This is a place where you can simply experience and bring forth what you are and what you might be." — Joseph Campbell
We have a detached garage with a space above that I actually once used as an office space. Unfortunately, over the years we've let this space go. It's currently only used for storing junk that we don't want to keep in the house (In fact, the whole garage has been used for this purpose). The space above the garage has tons of potential. It has two cool skylights and a window with a view of the wetlands that borders our property. Of course, as you can see from the picture above, there's a lot of junk to get rid of. It's now time for me to do the work needed to reclaim this space and turn it into my personal sanctuary for creative work.
This Project is Creative Work
The goal for me is to turn this space into an inspirational environment that will help me do my best creative work. This process itself will become an ongoing creative project. I plan to experiment with all kinds of things like color, lighting and other aspects of interior design. I've already put together a board on Pinterest to provide inspiration for what I want this space to become:
I'm super excited about the possibilities and look forward to sharing the process and the results here. I've already made progress in removing much of the junk that filled this space. I was able to clear off the old school desk and put a spare dining room chair up there. It's a start.